Check Us Out On Our Pages

#PCM #PCMCHEER #PCM4LIFE @PCMCHEER
---
TRY-OUTS
2014-2015
If you would like to get on our Try Out Email List, please contact pcminfo@pacificcoastmagic.com.
Our Try Out Packets will be ready for release by Mid March!
---
* CONGRATULATIONS *
MYSTERIOUS
on your JAMZ PAID BID to Worlds
---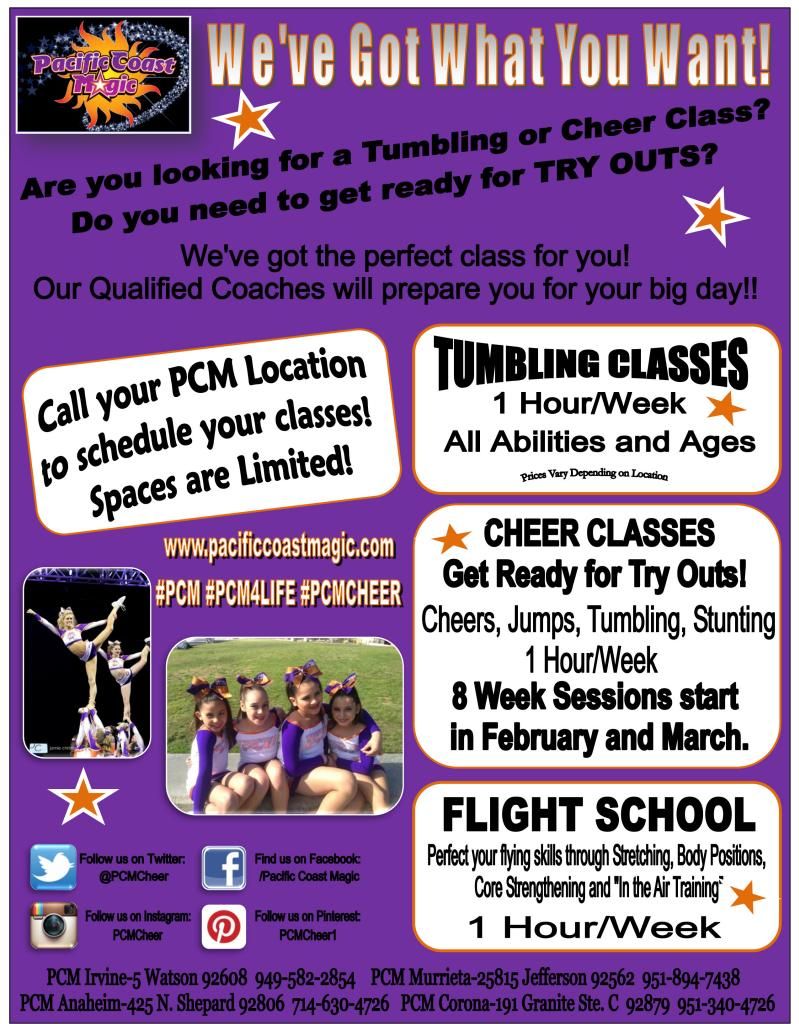 ---
Karma and Phoenix Stunt and Tumbling Clinics

COME STUNT AND TUMBLE WITH THE GOLD AND BRONZE MEDALISTS OF PACIFIC COAST MAGIC!!


WHEN AND WHERE:
March 9th in Corona or Irvine, April 6 in Corona or Irvine
TIMES:
10am-1pm
COST:
$25 Cash

Contact Jaime@pacificcoastmagic.com for more information

See Our Forms Section to the right for flyers and registration forms.
---
to our Fabulous Worlds Teams

on getting their BIDS to WORLDS!
Phoenix-PAID BID from ATC
Mysterious-PAID BID from JAMZ
Fantasy-At Large from GSSA
Angels-At Large at Spirit Sports
Karma-At Large at Spriit Sports
---
You can Order Your
OFFICIAL PCM SPIRIT WEAR
by clikcing on the link below.
CHECK OUT ALL THE NEWEST PCM GEAR AT
Sports Bras, Briefs, Sweatshirts, Tshirts, Shorts, Bows and so much more!
You asked...We listened!
CLOTHING IS AVAILABLE AT YOUR PCM LOCATION!!
You have the option to order or just purchase it directly from your PCM office and take it home!!

You can still order directly from our website and have it delivered to your home.
Order yours at Ready2Win@live.com
CHECK OUT OUR SHOES AND ACCESORIES!
FOR BEST RESULTS PLEASE VIEW THE SITE ON YOUR DESKTOP
---
WHAT WE OFFER AT
PACIFIC COAST MAGIC
Competitive-Nationally Ranked Cheerleading Teams, Mid-Season All Star-Prep Teams, Tumbling Classes, Cheerleading Classes, Open Gym, Birthday Parties, Private Lessons, Gym Rentals, Tumbling/Stunting Clinics, Summer Camps, Parent's Night Out, Sleep Overs, Home School Classes, Choreography and so much more!
CONTACT US FOR MORE INFORMATION!
We'd love to have you join our FAMILY of CHAMPIONS!
FOUR CONVENIENT LOCATIONS TO SERVE YOU
MURRIETA-25815 Jefferson Avenue, Murrieta 92562
(951) 894-7438
IRVINE-5 Watson Irvine, 92618
(949) 582-2854
CORONA-191 Granite St, Suite C. Corona 92879
(951) 340-4PCM (4726)
ANAHEIM-425 N. Shepard Anaheim, 92806
(714) 630-4PCM (4726)
Forever in our Hearts!
Please visit our PCM Media Link under the Info tab to view "Heaven's Debutant" Video.