PCM will be Closed on Monday, May 27th
PCM will be Closed on June 29-July 6th
---
It's not too late to Try Out for the 2013/2014 PCM Teams!
Email us for more information!
pcminfo@pacificcoastmagic.com
---
PCM WELCOMES MICHAEL TO THE PCM FAMILY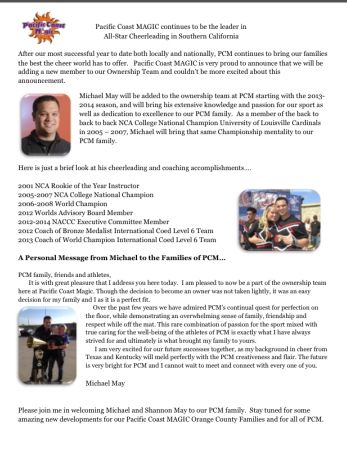 You can download the Announcement Letter on the right hand side of our website under the forms section.
---
to our Fabulous 5 Worlds Teams

Karma-3rd Place Bronze Medalists
Fantasy-4th Place in the World
Mysterious-7th Place in the World
Believe-13th in the World
Angels-17th Place in the World
The Worlds Not Ending...We're Just Taking Over!

WORLDS 2013
DIVINE AT THE SUMMIT
Divine bring home 4th Place in the Nation at the Summit!
---
---
You can Order Your
OFFICIAL PCM SPIRIT WEAR
by clikcing on the link below.
CHECK OUT ALL THE NEWEST PCM GEAR AT
Sports Bras, Briefs, Sweatshirts, Tshirts, Shorts,
Bows and so much more!
All orders are delivered directly to your home.
CHECK OUT OUR NEW ARRIVALS!

www.ready2winpcm.com
---
WHAT WE OFFER AT
PACIFIC COAST MAGIC
Competitive-Nationally Ranked Cheerleading Teams, Mid-Season All Star-Prep Teams, Tumbling Classes, Cheerleading Classes, Open Gym, Birthday Parties, Private Lessons, Gym Rentals, Tumbling/Stunting Clinics, Summer Camps, Dance Classes, Parent's Night Out, Sleep Overs, Home School Classes, Choreography and so much more!
CONTACT US FOR MORE INFORMATION!
We'd love to have you join our FAMILY of CHAMPIONS!
FOUR CONVENIENT LOCATIONS TO SERVE YOU
MURRIETA-25815 Jefferson Avenue, Murrieta 92562
(951) 894-7438
LAGUNA-26631 Cabot Rd Suite A Laguna Hills 92653
(949) 582-2854
CORONA-191 Granite St, Suite C. Corona 92879
(951) 340-4PCM (4726)
ANAHEIM-425 N. Shepard Anaheim, 92806
(714) 630-4PCM (4726)
Forever in our Hearts!